Fillable CMS 1500 Claim Form Software for Medical Billing for 2022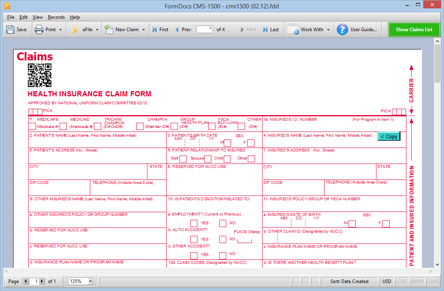 Pay ONLY once and not every year!
Your Reimbursement is Guaranteed!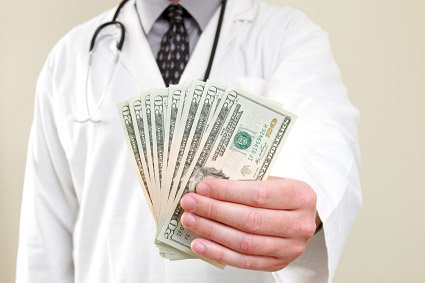 FormDocs CMS-1500 Claim Form Software is the most affordable and easy-to-use medical billing solution for filling and submitting CMS 1500 insurance and Medicare claim forms.
Work in a full-size, fillable CMS 1500 health insurance claim form (newest OMB-0938-1197 CMS FORM 1500; replaces HCFA Form 1500) right on your computer, without any complicated screens to learn. Securely store, organize, and manage all your filled-in medical claim forms. Easily print your claims onto pre-printed red CMS 1500 Claim forms, or print onto blank paper**, or optionally e-file* and track your insurance claims so you can get paid faster! We guarantee it or your money back!
More Value and a Smarter Choice
Unlike fillable PDF-based CMS 1500 forms, FormDocs CMS-1500 is dedicated forms software, built from the ground up for the purpose of filling-in, printing and managing forms. With FormDocs CMS-1500 you get a robust software platform with rich form-filling features, thorough field validation to reduce data entry errors, and perfect print alignment of data onto the claim form. No Form 1500 PDF product can do all that, AND match FormDocs CMS-1500 on accuracy, features and price!
More Income and Less Expense
You pay for our software only once and not every month or every year. While other companies charge you a monthly or annual fee to use their software, with FormDocs CMS-1500 you pay only once, saving you thousands of dollars over the life of the form!
We also provide FREE Technical Support and, when you purchase, you can also bundle our fillable CMS 1500 form software with affordably-priced official red paper CMS 1500 Claim forms, and we'll even pay the shipping costs. All together, you will enjoy more practice-time, less paperwork-time, and more profitable reimbursement with FormDocs CMS-1500 claim form-filling software.
FormDocs CMS-1500, starting at only $99.95, offers the most value of any CMS 1500 Form Software in it's class! But don't just take our word for it, download it now and put it to use it in your practice to create and submit paper claims** risk-free for 30 days, no credit card required.
Note: The new OMB-0938-1197 CMS FORM 1500 Health Insurance Claim Form must be submitted for all Federal (Medicare) insurance claims. It supercedes the obsolete HCFA 1500 Claim Form, which is no longer accepted for Medicare claims.
FormDocs CMS-1500 Claim Form Management Software is a replacement for HCFA Form 1500, HICFA 1500, Form 1500, 'Instaclaims', and 'Just Claims'
* Optional Claim e-Filing feature requires enrollment with third-party Medical Claims Clearinghouse.
** Not every insurance carrier accepts claims printed on plain paper; check before submitting plain paper claims.